Exquisite whips with impressive engines, a verdant setting in the Lake District and top-tier musical entertainment – this is what made this year's meet for The Elite Sports & Performance Car Club (ESPCC) held at Cumbria International Motor Show, so special. For the second year running, Hippo Motor Group were proud to be part of this regal event on Sunday 19th May.
Reversing into their exclusive parking bays for the day beside the Hippo Motor Group stand were five exceptional motors; the Black Sapphire Metallic BMW 4 Series 420D XDrive M Sport, the Jupiter Red Mercedes-Benz A-Class A45 AMG, the Land Rover Range Rover Velar R-Dynamic SE with ambient lighting, the beastly Tesla Model X P90DL and the ferocious Ferrari 458 Speciale.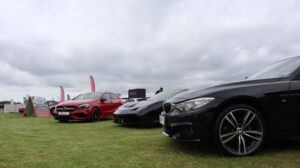 Now in its ninth year, the Cumbrian show is a magnet for UK-wide motor-heads with a lifelong passion for classic cars, hyper cars and supercars.
The thrill-inducing day saw car enthusiasts sound thunderous revs from the supercars by putting pedal to metal, then take a tour of the interior by quizzing our team. Sales Controller, Greg Wolfenden, and Driver for Hippo, David Healey, were there to answer any questions people had about the makes and models.
The two most popular pin-ups were the Ferrari 458 Speciale, which has won the double WEC title in a wide variety of classic endurance races, such as the 24 Hours of Le Mans, the 24 Hours of Daytona and the 12 Hours of Sebring, and the electric Elon Musk invention, the Tesla Model X P90DL.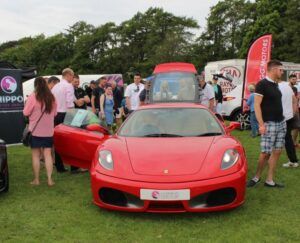 Ferrari 458 Speciale
For go-faster daredevils scouting out the stand, the chance to win an exhilarating rally-driving experience with Hippo Director and Rally Driver, Tom Preston, was on the racing cards, and we'll be getting in touch with the winner shortly.
Hippo Motor Group have a huge batch of brilliant events in the pipeline for the upcoming summer months, including Barrowford Festival, so look out for us there on Saturday 13th July.