Hippo Motor Group is a pioneer of progress. We aim to nurture our staff with new and varied skills and give members of all departments the room for growth and development.
Here, we sit down with Account Manager Jack Barton, who is a great example of somebody who took a natural path and moved through the company to find what he is most passionate about.
From valeting to the enquiry management team (EMT), and now the sales team, Jack's journey is one that Hippo encourages in a dynamic and supportive working environment.
Hi Jack! Let's start at the beginning – when did you join Hippo Motor Group and what made you choose valeting as the department to begin your employment with?
I started at Hippo in August 2020. I had just finished college and the idea of uni didn't appeal to me for one reason or another. I decided I wanted to work for a growing company with lots of progression and Hippo was definitely the right decision.
The valeting job appealed to me as it was working with a group of people who had the same mindset as me whilst also giving me the opportunity to learn the ethos of the company. The role I had was slightly different to other valeting roles in the company, my job was to ensure the pitch was maintained to a high standard. Be that keeping the vehicles clean or making sure the vehicles were all organised.
I took pride in my work and that was soon picked up on by management which gave me a lot of satisfaction. It also helped that I worked during the summer months, so I got a good tan in the process! 😊
How long did you spend in valeting before you moved onto EMT? What are some of the key skills and experience you picked up from valeting?
I spent four months in valeting before I moved onto EMT. Valeting helped me gain an excellent work ethic and gave me the communication skills I needed to work in a team. It also gave me more knowledge of the range and value of vehicles we have in stock at any given time, which really helped me going into EMT and now sales.
What prompted your move from valeting to EMT?
I always wanted to progress in the company and had an idea how that situation could arise. However, a massive reason for this move, for me, was the management in EMT. I had met the EMT manager outside the office a couple of times and he was always talkative, and we often chatted and began to build a good relationship. This put me in good stead to make that move and prove to the team that I could add value to a role in EMT.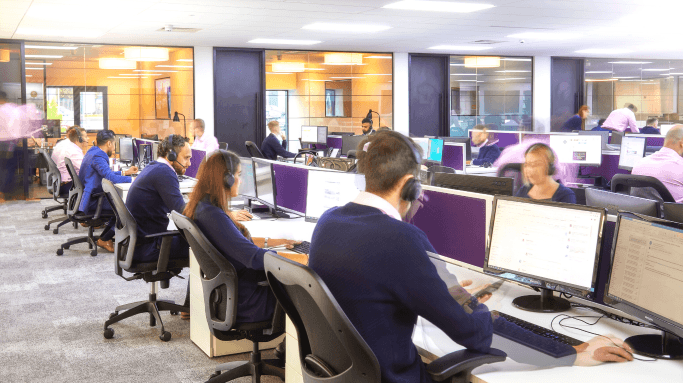 What are five key elements that you learned during your time in EMT, which made you feel motivated?
First and foremost, I learnt a lot more about the ins and outs of the business. This motivated me to progress to the next step as I wanted to be the person to manage the accounts of our customers and ensure that we got them the best deal that we could find.
Teamwork is a massive part of EMT as your role can involve changes for the good of the team.  In these instances, if it's not a role that you desired, rather than being negative, I was able to mould into multi-tasking and take advantage of being introduced to new areas of the business. This gave me the confidence I needed to do the job to the best of my ability.
I also found it helped my personal development as I had never spoken to customers over the phone before. It was very different to the face-to-face roles I had experienced previously and allowed me to progress my rapport building and learn how to make the information as clear as possible.
Being in the office also gave me a stronger belief in the company. I now understand that the company is just one massive family and if you are unsure about anything you can ask anyone, and they will be happy to help. It has meant that I have never really struggled as the environment you are surrounded by is that of a close-knit, and supportive, team.
What inspired you to switch from EMT to sales – and has the sales position so far been what you expected?
I had wanted to be in a sales role ever since I left college, and I had a close friend who I have worked with since I was 14, and still work with now, who had been in this role and always motivated me to strive for sales.
The sales position is slightly different than I anticipated as our job is to sell cars however it is very different to how other businesses work. If I was to describe my role, I would say that it is to manage a customer's account to give them the best outcome for their current situation. This is something I have been striving to do since my EMT days and I do believe that here at Hippo we put the customer first.
Your progress between departments has been quite rapid – why do you think you've been able to easily move between roles so quickly?
I would say I have been able to move so easily as I have built good relationships with my colleagues through hard work and determination. From the start, I made everyone aware of the progression I wanted to make and that I had the work ethic to match my ambitions. This then meant that when the chance presented itself, I had the opportunity to grab it with both hands.
Describe your average working day – what do you enjoy the most?
I will usually come in half an hour before I am meant to start, check my emails, and try cleaning up my system. My day will then consist of taking new enquiries and helping my current customers find the best car for their situation.
I enjoy helping my customers getting into the car that's right for them, sometimes without them knowing that it was an option they could be approved for. It gives me satisfaction when a customer is over the moon with their vehicle as I feel I have done my job the best I can.
How do you keep yourself motivated?
I aspire to move out of my parents' house quite soon so that is a big motivation to build up a deposit for a house. I also think it helps me stay motivated when I leave work happy that I have given everything to the day, meaning I can go home and relax.
The work life balance at Hippo is unlike any other company in the motor trade. Having the hours to enjoy my weekends at football and spend time with family and friends, gives me the mindset I need when I get back into work on a Monday.
Describe yourself and your work ethic in three words…
Conscientious, reliable, and honest.
What do you love about working at Hippo and what would you say to anyone who is considering applying for a job with us?
I would just say: go ahead and apply! I have never worked for a company like Hippo before. Even though the business is growing at an exponential rate, it's still a close family. It takes the best of being a growing company such as job security and good career prospects and mixes them with an environment that thrives as a family-run business should.
What kind of support and perks do you receive on the sales team – things that help you improve your customer service and strive to reach your targets?
In terms of support, I received comprehensive training from the new training manager which has helped me an immense amount. Being in the business a while, I have seen some people struggle as it is a very different environment compared to where some of the team will have worked before.
The new training that is provided, that I witnessed first-hand, is a lot more thorough and has given me the confidence and tools I need to succeed in the business. We have an individual team leader who is our main point of contact if there are any issues and to help us improve with individual training.
We also get a range of incentives every month that motivate us to put 100 per cent effort in even if we are having a tough day. The most recent incentives we had included a weekend city break, retail vouchers, cash gifts, and more. 
Share some of your professional goals that you'd like to achieve over the next year?
Personally, I would like to consistently overachieve, not just in terms of my target but in terms of my work ethic. If I can consistently do everything I can for my customers, it will reflect on my target, which is just a bonus. I want to be the account manager that performs the best in my team and the one of the best in the company.
With a range of roles available at both our Blackburn and Manchester locations, view and apply for the position you're interested in via our online application process here.