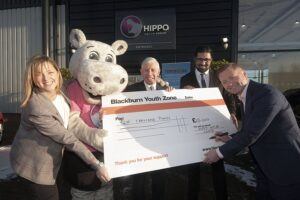 Hippo Motor Group recently lent its support to the Blackburn Youth Zone, pledging £10,000 to the charity as it became patron for 2019.
The charity's chairman, Rt Hon Jack Straw and CEO, Raz Mohammed, recently visited Hippo's Trident Park showroom to collect the cheque and find out more about the business which employs 160 people.
Tom Preston, Hippo's managing director, said: "We're privileged to become a patron of a local cause which does so much for the young people of our community.
"We have a few charity events on the cards to raise even more money for the Youth Zone and we hope that our involvement will also help raise further awareness about the fantastic things they do for the young people in the town."
Straw said: "Tom Preston and his colleagues have been very generous. The Youth Zone provides services for 1000 people a week, so in order to keep going, we rely on the generosity of companies like them.
"Hippo has pledged to raise £10,000 for the charity this year and we will be able to do so much with that money, helping change young people's lives for the better and keeping them off the streets.
"We look forward to working with Hippo throughout the year," he concluded
Tom and the Hippo mascot handed over the cheque before giving Jack a tour of the showroom and offices, talking about plans for the business this year and beyond.
Hippo joins a wealth of successful Blackburn brands as a patron and will work with Blackburn Youth Zone to raise the aspirations of the town's young people.
The intention is to equip them with life skills, increased confidence and independence which in turn will regenerate Blackburn from the bottom up.